Don't Sweat It: Sweat-Absorbing Disposable Nitrile Gloves
A study by Grandview Research showed that disposable nitrile gloves are used across numerous industries, with more than eight billion dollars of gloves purchased in 2021, and in another study by GM Insights that figure is expected to double by 2028. North America alone makes up almost 40% of the global market share.
These types of gloves have become trusted PPE over the years, though not without some issues.
With a very thin-mil glove, there is a danger of tearing or pinholes, which can create exposure to contaminants. Nitrile gloves are intended to be used only as a physical barrier against brief contact with chemicals, and they need to be removed and discarded immediately after becoming contaminated.
Problems with Nitrile Gloves
Nitrile does not "breathe" so wearers' hands become hot and sweaty while using the gloves. This can be problematic by creating discomfort and with extended wear, creating skin irritation. In hot, humid conditions, the wearer will often remove the gloves to allow air to dry the skin and then replace that pair with a new pair. This can happen multiple times during a shift, multiplied by the number of people needing to wear the gloves. In addition, a wearer taking a break or stopping work to eat requires the removal of the gloves and donning a new pair before starting back to work.
In addition to wearer discomfort, the frequency of changing gloves, and the inventory needed that result in financial and storage space costs, these disposable gloves must be discarded and, often, sent to the landfill. Companies concerned with sustainability and green initiatives continue to look for ways to reduce the impact of glove waste. A regular nitrile glove can take hundreds of years to degrade in a landfill. If recycling exchange programs are initiated for glove waste, there is still a cost associated with the collection, pick-up, and disposal of the gloves in manpower, transportation, and time, adding to the carbon footprint.
The Challenge for Workers
Disposable nitrile gloves have become popular because of the convenience and protection level offered. These gloves generally fit so the wearer can maintain dexterity in feel and touch when handling small parts and still protect the hands while keeping them clean.
Attempting to improve protection, comfort, and productivity with thicker or more chemical-resistant gloves is difficult. Typically, with more thickness comes less dexterity, grip, and the ability to feel parts or tools effectively. A more chemical-resistant glove requires heavier, non-breathable materials that add to the weight and bulk of the gloves.
Extended-wear reusable gloves may provide comfort and protection but lose productivity and efficiency. Wearers then remove the gloves to perform simple tasks, creating exposures to the hazards that require using the gloves in the first place, now creating compliance issues.
The Solution for Disposable Glove Wearers
For years, we've been searching for the solution to clammy hands. It turns out, we struck gold with this latest development.
We ran over 1000 tests and finally found the solution to keeping hands dry and comfortable while wearing disposable gloves. Mechanix Wear puts an end to sweaty, hot hands without compromising protection, productivity, and efficiency in performing assigned tasks. The Nickelbacks 6-mil Sweat-Absorbing Nitrile Glove is the single answer to solving multiple challenges in protection, waste, and budget.
The Nickelbacks 6-Mil Sweat-Absorbing Nitrile glove uses the latest innovative materials from DriTek® and EcoTek® so wearers can keep their hands dry longer and know once the gloves are discarded, biograde in landfills in as little as 2.5 years – not 100+ years, as traditional thin-mil gloves.
DriTek® is a moisture-wicking flock-lined system that gives the wearer drier, cooler, and more comfortable hands, especially if worn for extended periods during a shift. This reduces the risk of the skin becoming irritated and itchy with the long-term potential of rash or overly sensitive skin. This lining also eases donning and doffing of the gloves which also reduces the risk of spreading any contamination from the gloves onto clothing or other surfaces during removal.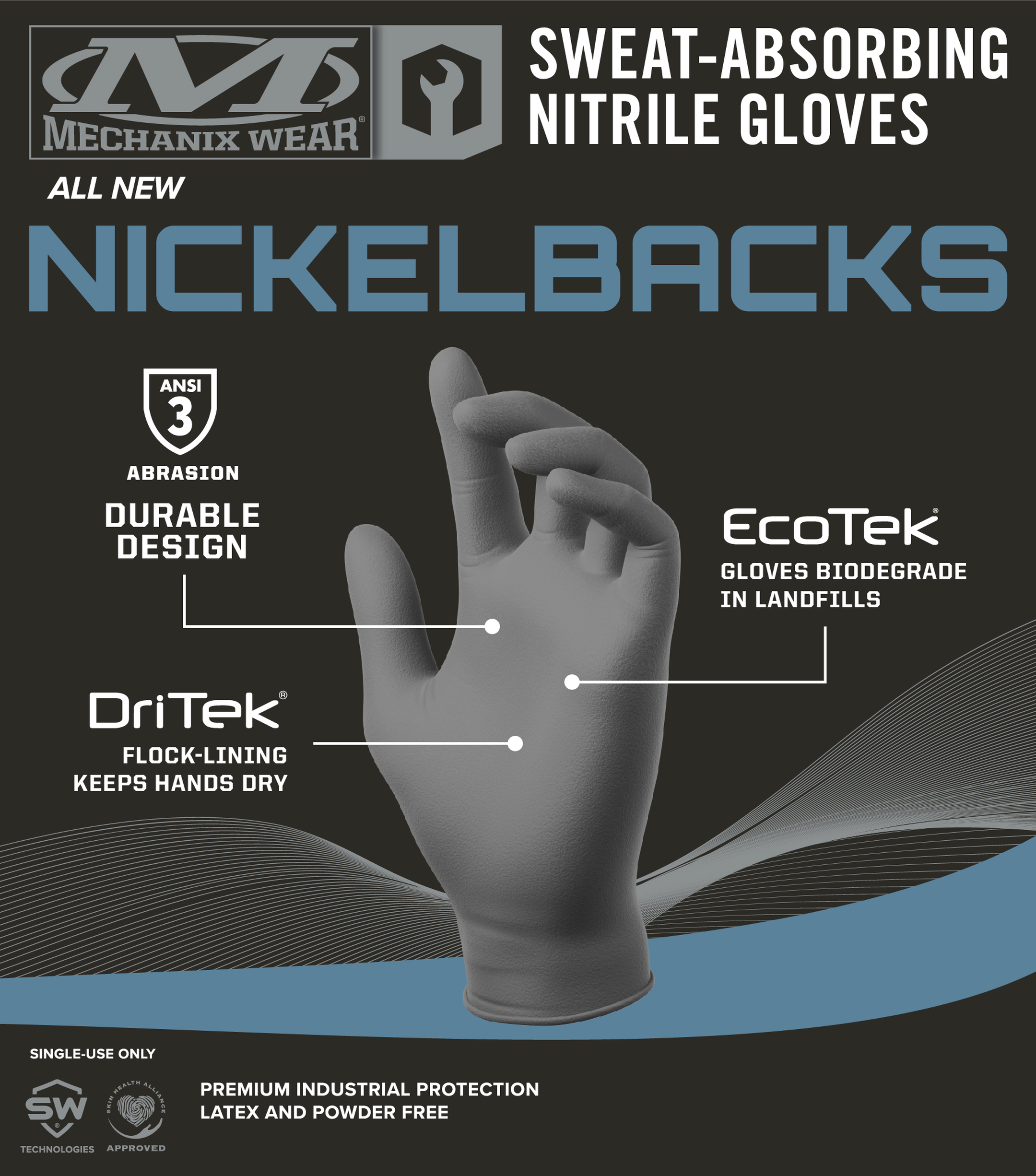 EcoTek® is a proprietary formula manufactured into the glove that allows for a 92.6% breakdown in landfills within 2.5 years without compromising the glove's protective properties during use.
Benefits at a Glance
DriTek® technology keeps hands drier, cooler, with better comfort, protection, skin health
6-mil thickness maintains disposable pricing with improved durability and protection
Re-use means less inventory to purchase, less inventory needed, and waste
EcoTek® allows the nitrile to biodegrade as landfill waste and reduces the carbon imprint
EcoTek® reduces recycling costs in transportation, collection, fuel use, and handling
Extended wear and comfort offer less frequent glove changes that streamline productivity
Micro-roughened texture provides greater dexterity and non-slip grip in oils, water, chemicals
Improved donning and doffing of gloves with DriTek® inner lining keeping hands dry
TRACK program offers no-obligation sample trialing with front-line employees
Mechanix Wear/SW® Safety partnership provides exclusive innovative technology and products not found elsewhere
Purchasing Nickelbacks 6-Mil Sweat-Absorbing Nitrile Gloves supports the Women-Owned Small Business Federal Contracting Program with SW® Safety – a privately-held, woman-owned, minority-led business
The 6-mil thickness allows the glove to be "disposable" but with greater durability and reuse during a work shift. The nitrile maintains its proven protective features by stopping grease, oils, and chemicals from reaching the skin.
Dexterity and grip are maintained through a micro-roughened texture that creates a greater surface area that contacts the tool or part and maintains the "feel" with the fingers.
Improved comfort for the wearer with proven protective properties means the wearer is more productive with fewer change-outs and safer with wanting to remain protected from those identified hazards and exposures. The 6-mil thickness means there are fewer times the gloves need to be changed and, in fact, can be reused throughout a shift.
The DriTek® lining allows for extended time of use and reduced damage or tearing to the glove when donning and doffing so it can be easily removed and slipped back on after a break or a meal. This, in turn, offers better economic value which lowers inventory purchase and storage requirements and lowers replacement costs.
With EcoTek® technology, the reduced amount of waste in reuse will also reduce the gloves' imprint on landfills as well as the need to contract, collect, and ship glove waste to a co-generator or other recycling facility.
In every respect, Nickelbacks 6-Mil Sweat-Absorbing Nitrile Gloves provide the protection level and comfort needed for wearers, reduces overall landfill and recycling costs, and reduce inventory and storage costs.
This innovation is a first of its kind in a nitrile disposable glove – a result of a partnership with Mechanix Wear and SW® Safety – a woman-owned, minority-led company – using SW® advanced proprietary technologies that maximize comfort, performance, and durability. These advances give you a competitive edge in safety, protection, and value to your bottom line.
Action Step – Try Before You Buy
Contact us today for your TRACK Trial Program. As a safety professional, front-line employee, or procurement professional, do not blindly take our word for it with a pilot purchase. Simply contact us to request a trial and you and your employees can sample these gloves before you buy. We are confident your experience in wearing and testing these gloves will convince you there is no better disposable nitrile glove that will meet your demands for comfort, protection, and durability.
The benefits of the Nickelbacks 6-Mil Sweat-Absorbing Nitrile glove are numerous. The ease with which to trial these gloves prior to purchase is simple. The results offered by these gloves are amazing. Complete the TRACK trial request form right now to begin reaping the benefits!