A cut above the rest: Why you need 360-degree cut protection gloves
Injury statistics show that more than 30% of all hand injuries are from cuts, and that most of these injuries come from wearing either the wrong type of hand protection or insufficient protection for the assigned task or risk. People have had their livelihoods and quality of life changed forever in one split-second in what is, ultimately, a preventable incident.
Your location's risk assessment should identify all possible hazards for specific tasks or equipment. Once identified and all engineering and procedural controls have been put in place, the next step is to select a glove that provides 360-degree cut protection—while also ensuring grasp and grip.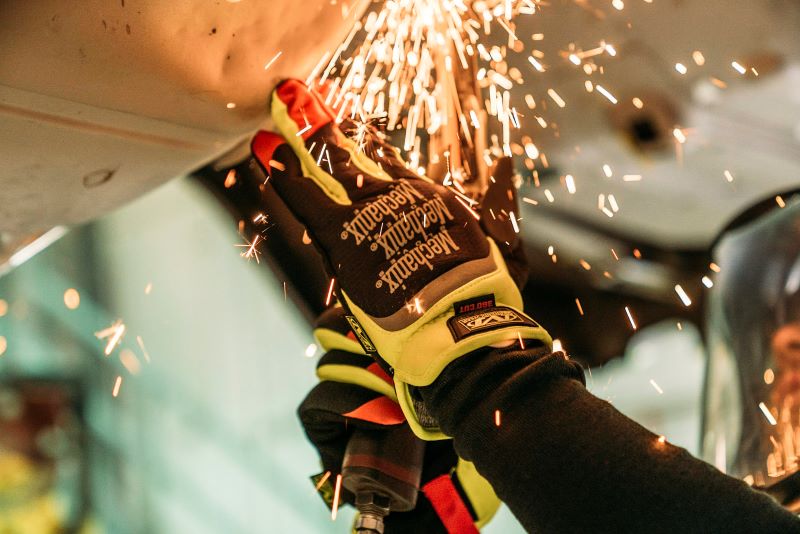 What is 360-degree cut protection?
360-degree cut protection is when a glove provides adequate protection from sharp points and edges from the front, back, and the side. This is important because cut hazards don't just come from a single direction. Workers move around, and so do the materials they handle and the machines they service.
By itself, a glove with a "cut-resistant" rating won't necessarily be enough to provide 360-degree production, because only the palm of the glove must pass testing to be classified as a cut-resistant glove. Instead, look for a glove designated and labeled specifically as a 360-degree glove. To obtain this designation, the glove must pass performance testing established by EN388 and/or ANSI/ISEA105 cut standards at the palm, the back, and each side of the glove.
Each of the glove's four faces is assigned a cut rating. For a 360-degree glove, the lowest rating is used to designate the glove's overall cut protection level. So, if the palm surface is rated at A5 and the back surface is rated at A4, the glove is given an A4-360 rating. This ensures the minimum cut level across all glove surfaces to ensure the protection level is appropriate for the hazard exposures.
The material type and thickness used also affects the glove's cut resistance. If there's a coating on the palm that increases the palm's surface thickness, it would likely have a bit more cut resistance than the overall 360 rating but may not be enough to help the glove reach the next cut-level designation.
Why do you need 360-degree cut protection?
Many assume that cheaper gloves that offer partial cut protection will do the job just fine—and in a way they're right. There are indeed plenty of working environments that only have a low threat level when it comes to cut and puncture hazards.
But there are some crucial factors that you need to remember when it comes to working with materials or machinery:
Hazards aren't unidirectional
Protective gloves with a cut-resistant palm are great—as long as you're dealing with a hazard palm-first. But what happens if you're in an environment where the hazards can come from multiple angles?
Workers who operate machinery with sharp parts, such as conveyor belts, may be at risk of cuts to the top or sides of their hands if they accidentally touch a moving part. The same goes for machinists that operate lathes, mills, and grinders.
These threats can easily slip past the palm coating and injure you—even when you're paying attention.
You don't totally control the environment
Hazards are usually engineered out of a manufacturing process well before a human steps onto the floor, but things can and still do go out of control. Material you're handling might slip and hit the back of your hand, or a tool can malfunction and catch you by surprise. Palm protection alone is no help when you're not expecting the threat.
Workers can get distracted
No person can stay focused 100% of the time. You might get distracted talking to a colleague. Your attention might be drawn to something further up the production line. You might even be thinking about what to have for lunch.
If something happens while you're distracted, you won't be able to move your hands away fast enough. If you don't have a 360-cut glove, you'll just have to hope that the threat is coming from the side with protective material.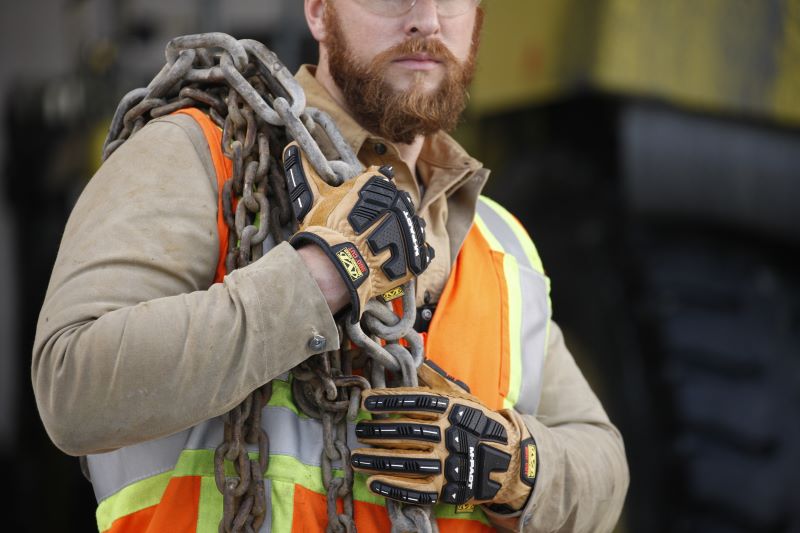 Tasks
and environments ideal for a 360-degree cut glove
360-degree cut gloves are well-suited for tasks like:
Manual handling and moving of sheet metal/HVAC, heavy manufacturing

Assembly line parts or maintenance requiring reaching into spaces or between machinery

Glass/Window manufacturing and handling

Commercial/steel construction handling tools, parts, and various steel/aluminum gauges

Aerospace manufacturing with safety wiring, rivet installation between metals and composites

Steel fabrication and handling

Heavy cable/wiring handling/utilities
360-degree cut protection with Mechanix Wear
Mechanix Wear offers numerous 360-degree Cut Protection Gloves in numerous sizes to meet your specific function and fit needs. All our gloves are durable and long-lasting.
Depending on the glove design, it can be:
Touch-screen sensitive to work on screens without exposing fingers to hazards

Long-lasting durability means saving money on replacement gloves

Machine-washable to remove grit, oils, and dirt

Abrasion- and impact-resistant for work around machinery and masonry

TAA-compliant to meet government contractual obligations

Hi-Viz for work areas where you have to see and account for hand placement

Waterproof to prevent cold, wet, and numbness of fingers, maintaining dexterity and feel

Designed for cold work, insulating your hands and fingers from extreme temperatures
If you're experiencing hand injuries in your workplace, or just looking to ensure you have the best levels of protection available for you and your people, enroll in the Mechanix Wear TRACK program. Our professionals help you identify specific hazards, recommend solutions, and allow you to pilot-test those solutions with your front-line team prior to purchasing. You can be confident in knowing you have the right PPE matched to the identified hazards.
Don't delay on discovering the perfect glove for your protection needs. Contact us now for your trial.